Flying in competitions is hugely satisfying, whether it's at top international level or a matter of more relaxed local rivalry.  
Two competitors:
Josh Lloyd has been a GB Junior and Senior national team member and flies the Claymore, (produced by his father Rick Lloyd, also a top flyer).
Mike Hodgkiss is a retired civil servant who mostly sport-flies power and gliders at the North Downs MFC field but also enjoys Kent Interclub competitions, where his performance is improving. Flies a variety of s/h models, seen here with his late-lamented Pike Perfection.
 … and what they get out of flying competitions: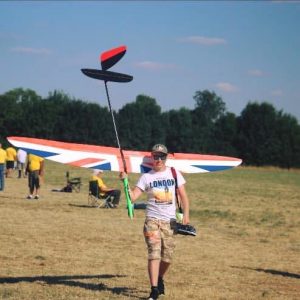 Josh Lloyd
"Growing up I was always based around model flying and competing but as I progress through competition to an international level, my experience and friendships grew. I've met so many different people through this hobby that you would never expect to meet, you experience totally new things by competing that you wouldn't even dream of in a day to day life."
Mike Hodgkiss
"I didn't plan to take up competitions when I resumed model flying after a long break. But I'm glad I did. There's so much fun to be had, not just flying but in enjoying the company of a friendly bunch of people who behind the natural banter are always ready to offer help or advice. And it's always a pleasure just to watch and learn from how they fly. Models can be expensive but don't have to be. My older second hand ones may not be as competitive as newer lighter versions but in the right conditions can perform very well. For me to occasionally win a group is very satisfying, but it's the overall experience I cherish."